Entradas The Jesus And Mary Chain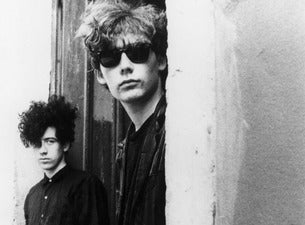 Entradas conciertos The Jesus and Mary Chain

The Jesus and Mary Chain es una de las bandas más grandes y polémicas del post-punk, y ahora llegan a España para presentar su esperado nuevo álbum 'Damage and Joy'.

Después de casi dos décadas sin publicar ningún trabajo, el nuevo disco de The Jesus and Mary Chain llegará a las tiendas a finales de marzo y con él una extensa gira de presentación y reencuentro con los fans. 'The Damage and Joy Tour' llevará a la banda escocesa a tocar por toda Europa, recuperando también todos los clásicos que los convirtieron en leyenda.

La banda capitaneada por los hermanos Jim y William Reid recogió el testigo de los Sex Pistols en la escena musical británica, principalmente en Londres, y tanto su estética como sus polémicos e innovadores conciertos los situaron rápidamente en el punto de mira. Con influencias de otras bandas como Velvet Underground o de The Stooges, The Jesus and Mary Chain fueron, sin duda, una revolución musical.

Los conciertos de The Jesus and Mary Chain en Madrid y Barcelona son una oortunidad única de poder ver a los escoceses en concierto después de tantos años. ¡Compra ahora tu entrada para The Jesus and Mary Chain!


13 eventos para The Jesus And Mary Chain
13 Eventos
Eventos en

España

(1)
The Jesus and Mary Chain

dom
Eventos internacionales
Internacional
(12)
The Jesus and Mary Chain

dom
The Jesus and Mary Chain

lun

19:00
THE JESUS AND MARY CHAIN

mar

19:30
Electric Fields

vie

12:00
The Jesus And Mary Chain

mar

19:30
The Jesus And Mary Chain

jue

19:00
The Jesus and Mary Chain

sáb

19:00
The Jesus And Mary Chain

lun

19:30
The Jesus And Mary Chain

dom

19:00
The Jesus and Mary Chain

lun

19:00
The Jesus & Mary Chain

dom

20:00
The Jesus and Mary Chain

mar

19:00